Why Nigerians Should Install Energy Saving Building Materials – Dr. John George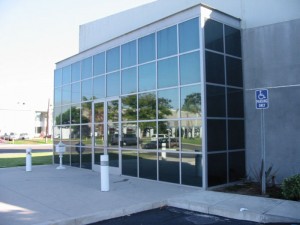 Why Nigerians Should Install Energy Saving Building Materials – Dr. John George — (exclusive interview granted Leadership Newspaper, by Rotex Group CEO)
Dr. John George, the Chief Executive Officer of Rotex Group of Companies Limited has been working in glass processing industry in Europe for the past 19 years. The former Chairman of Nigerians in Diaspora Organisation, Europe, in this interview with CHIKA OKEKE gives reasons why Nigerians should install energy saving doors and windows and the need for the federal government to collaborate with experts in regulating the building industry. Excerpts
Source of raw materials
Most of the materials we use come from Germany. Unfortunately, the volume of materials we need to produce the glass windows and doors are presently not available in Nigeria. We are in dialogue with some raw manufacturers in Nigeria to engage them in producing the kind of raw materials we need. We are very hopeful that in a couple of years, they can produce the kind of materials we will buy. It's for our own benefit as well because in doing so, we will be providing jobs for them and get Nigerians more engaged.
We started the dialogue the latter part of last year and the dialogue is going well. They are happy to adapt their machinery to produce the kind of product we need and we are helping them with technical data from Europe to enable them quicken the process. So, it's an active ongoing dialogue.
Employment policy
We are already building a factory in Nigeria to produce top quality windows and doors and glass materials for buildings. The companies we are engaging in dialogue are manufacturers of raw materials that we can use in our factory. At least, 80 per cent of the staff will be Nigerians and within our five years of operation, I believe that 95 to 96 per cent workforce will be Nigerians.
It is our joy to build capacity for our people. We have contributed enough to the industry in Europe and its time now to contribute to Nigeria industry as well as the growth of the economy.
Difference between Rotex glass doors and windows and other conventional doors in Nigerian market
Rotex doors and windows have a range of functionalities that are absent at the moment in the windows and doors in Nigeria market.
The windows are made not just to create an opportunity for ventilation in the house or for light to penetrate in the house but its designed to solve problems for the home. We have a very noisy environment and we are a noisy society. It can cut noise from outside up to 90 per cent. It can reduce the amount of money spent on electricity bills to power air conditioners because we used double- glazed glasses for the windows which normally deflect 65 per cent of heating rays coming from sun into the house.
If the heat rays are deflected, the air conditioners will have 65 per cent less work to do which will consume 65 per cent less electricity. For a country like ours that is battling with shortage of electricity, it is of immense importance to introduce energy saving building materials to manage the already scarce power.
Rotex windows enable the cleaning of exterior and interior surface of the windows without inviting people to climb from external part of the house. Because of their durability, they will open and close the same way as the day they were installed, thirty five years down the line and more.
The reason being that during the installation, we leave some space between the windows and the walls which are called expansion space for the frame. No matter the type of material used in constructing the window like wood, aluminium, steel, frames, when the temperature outside is high, the material expands. When the temperature cools, the material contracts. If there is no space around the window to enable it expand and contract, the room will be deformed which is what happens to about 99 percent of doors and windows in Nigeria.
We are bringing in that correct approach into the installation of windows. At the moment, we are training artisans free of charge across the industry.
Training programme
Last year, we trained 14 installers presently in Nigeria but this year; we intend to be more robust in this training. Our windows can only be installed by certified installers who have passed the installation training.
Let me emphasize that the gasket used for Rotex glass windows prevents entry of any particle of dust or any odour into the house and even when is closed, its seals out every environmental hazards in the environment.
For us, delivering just a beautiful window is not enough but we believe that the window should be able to serve significant functions to the room. This is the major difference between the concept of Rotex glass doors and windows and the conventional ones in Nigerian market.
How long have you been in Nigeria?
We started in 2014 by harmonizing the factory which we are still busy building at the moment but we have not started active business. As we are building the factory, we are creating awareness though not profit making at the moment. When the factory begins full operation, we will make profit.
Government regulating building materials
In all countries where this is done properly, the government generate policies to regulate the market in consultations with professionals who have been exposed to properly regulated markets. Apart from Rotex glass limited, there may be other companies who have relevant experience and the professional knowledge that we can share with the government which they can use to generate their templates for regulation. There may be people willing to partner with the government in carrying out the regulation.
Will your company be willing to partner with the government if invited?
Yes, it's an opportunity call for me. In the past, I have been the Chairman of Nigerians in Diaspora Organisation Europe. It was one of my passions at that time to drive technology from Europe to Nigeria. In participating in this process today, I'm happy that I am doing what I said earlier.
Building collapse and possible causes
Again, it boils down to regulation. For instance where I lived in the UK, if you start a building and when you finish the foundation, it is mandatory that you invite the Department of Building in Local Council to come and inspect the foundation. If they certify that you have done all that needs to be done at that level, they will give you permission to continue.
When you raise the walls, they will come and inspect, when you roof, they will come and do the third and last inspection. So, there are no excuses that the house was built before you moved in. If you go beyond the foundation before they come for inspection, you will demolish whatever structures you have raised.
Depending on how thorough the supervision and regulation of building processes are, it gives you the result you have either you have houses collapsing or houses that can stand for over 100 years without collapsing.
The quality of materials used will be checked and vetted by these organs. Wherever there is no control, there will hardly be any quality service delivery.
Originally published by Leadership Newspaper